This Week's Meditation:
"When love fills the heart, it will flow out to others, not because of favors received from them, but because love is the principle of action. Love modifies the character, governs the impulses, subdues enmity, and ennobles the affections. This love is as broad as the universe, and is in harmony with that of the angel workers. Cherished in the heart, it sweetens the entire life and sheds its blessing upon all around. It is this, and this only, that can make us the salt of the earth."
Mount of Blessings p.38
E. G. White

Today's Sunrise: 1:13 pm • Sunset: 11:25 pm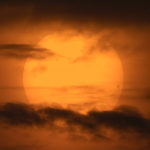 ---

Need some ideas to keep the kids busy? Here are some faith building ideas from your Children's Ministries.  Click here or go to our Departments page.
---