This Week's Meditation:
"It is true that in the time of the end, when God's work in the earth is closing, the earnest efforts put forth by consecrated believers under the guidance of the Holy Spirit are to be accompanied by special tokens of divine favor. Under the figure of the early and the latter rain, that falls in Eastern lands at seedtime and harvest, the Hebrew prophets foretold the bestowal of spiritual grace in extraordinary measure upon God's church. The outpouring of the Spirit in the days of the apostles was the beginning of the early, or former, rain, and glorious was the result. To the end of time the presence of the Spirit is to abide with the true church.
But near the close of earth's harvest, a special bestowal of spiritual grace is promised to prepare the church for the coming of the Son of man. This outpouring of the Spirit is likened to the falling of the latter rain; and it is for this added power that Christians are to send their petitions to the Lord of the harvest "in the time of the latter rain." In response, "the Lord shall make bright clouds, and give them showers of rain." "He will cause to come down . . . the rain, the former rain, and the latter rain," Zechariah 10:1; Joel 2:23."
Acts of the Apostles p.54-55
E. G. White

Today's Sunrise: 6:28 am • Sunset: 8:41 pm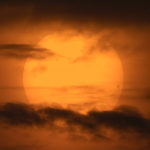 ---

Need some ideas to keep the kids busy? Here are some faith building ideas from your Children's Ministries.  Click here or go to our Departments page.
---
Vacation Bible School

is coming soon!  Plan now to attend,

July 20-24, 2020

from 6:00pm to 8:15pm.  Kids ages 4-11.
---