This Week's Meditation:
"It is our individual duty to walk humbly with God. We are not to seek any strange, new message. We are not to think that the chosen ones of God who are trying to walk in the light, compose Babylon. The fallen denominational churches are Babylon. Babylon has been fostering poisonous doctrines, the wine of error. This wine of error is made up of false doctrines, such as the natural immortality of the soul, the eternal torment of the wicked, the denial of the pre-existence of Christ prior to His birth in Bethlehem, and advocating and exalting the first day of the week above God's holy, sanctified day. These and kindred errors are presented to the world by the various churches."
Evangelism p.365
E. G. White

Today's Sunrise: 11:49 am • Sunset: 1:21 am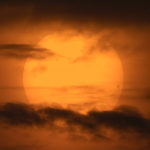 ---

Need some ideas to keep the kids busy? Here are some faith building ideas from your Children's Ministries.  Click here or go to our Departments page.
---